MOONRAKER
GADGETS
.
007's Mini Camera

Ideal for undercover work, this mini camera can be secreted anywhere. When posing as an investigator for the missing Moonraker shuttle, 007 uses this personalised version of the Q branch camera to take valuable pictures of blueprints from the Venini glass plant.
The Wrist-Dart-Gun
Making its appearance in Moonraker, Bond's dart gun was worn around the wrist, like a watch, and could be triggered by nerve impulses. It came with 5 blue-tipped armour piercing darts and 5 red-tipped darts which were cyanide coated. The dart gun saved Bond's life twice: once when inside a gravity simulator being subjected to 13Gs and again when held at gunpoint by Hugo Drax.
.
Seiko
.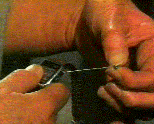 Bond's first gadget laden Seiko appeared in Moonraker. Packed with plastic explosive, the watch could be set to go off "bang on time". The watch allowed Bond and Dr. Goodhead to escape from being cremated below Drax's Moonraker 5 space shuttle.

.

.