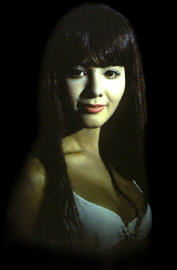 YOU ONLY LIVE TWICE
GIRLS
.
.
AKI


007's Japanese guardian angel, You Only Live Twice's Aki saves Bond's life on more than one occasion. Played by Akiko Wakabayashi, and driving a Toyota 2000GT convertible, Aki lures 007 into Tiger Tanaka's secret headquarters with considerable ease. Unfortunately, she meets an untimely end when a ninja assassin misses his target.
Most memorable quote
"I think I will enjoy very much serving under you."
KISSY SUZUKI

Played by Mie Hama, Kissy is the first girl who Bond marries, albeit as a cover, in You Only Live Twice. A Japanese Ama girl who makes her living diving for shells, she also works for the secret service and assists 007 in his search for SPECTRE's hidden rocket launching base.
Most memorable quote
Bond: We're supposed to be on honeymoon..
Kissy: Think again, please. This is business.