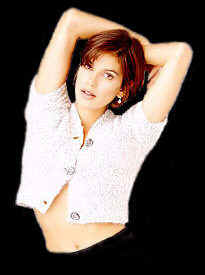 TOMORROW NEVER DIES
GIRLS
WAI LIN

Posing as a reporter, Wai Lin of the Chinese secret service goes undercover to investigate the suspicious circumstances behind hostilities between her country's armed forces and the British Navy. Not your typical Bond girl, martial arts specialist Michelle Yeoh gives Wai Lin an explosive on-screen presence in Tomorrow Never Dies.
Most memorable quote
Wai Lin: Every now and then you get to take a cruise with a corrupt agent from a decadent Western power.
Bond: Well, if I may say so, you've found the right corrupt, decadent Western agent as a partner.
PARIS CARVER

Wife of the worldwide media baron, Elliot Carver, Paris has a secret past which proves her undoing. In Tomorrow Never Dies, a relationship with her old flame, James Bond, leads to an untimely demise at the hands of Dr. Kaufman. Paris is played well by Teri Hatcher, made famous by role as Lois Lane in TV's Lois and Clark: The New Adventures of Superman.
Most memorable quote
Bond: Was it something I said?
Paris: How about the words, "I'll be right back"?
Professor Bergstrom

Professor Inga Bergstrom is a University professor at Oxford. 007 seeks out her superior abilities (as a teacher of the Danish language). In Tomorrow Never Dies, Bond's love interest is played by Cecilie Thomsen, best known as Bryan Adams' girlfriend.
Most memorable quote
Bergstrom: I am very pleased with your progress, Mr Bond.
Bond: Well, I've always enjoyed studying a new tongue.