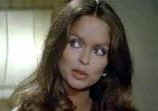 THE SPY WHO LOVED ME
GIRLS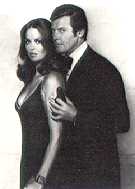 ANYA AMASOVA

Hailed as the first liberated Bond girl, Major Anya Amasova of the Russian Army is 007's Russian counterpart in The Spy Who Loved Me. Code named XXX, Anya, like Bond, has never failed on a mission, and cleverly outwits and outthinks 007 on more than one occasion. Played well by Barbara Bach (the second wife of Ringo Starr), Anya manages to play both the strong secret agent and the damsel in distress without an incongruous disparity.
Most memorable quote
Golgol: As a gesture of goodwill, I am willing to make available the microfilm recovered by XXX.
Anya: With considerable ease, I might add.
The Log Cabin Girl

Saucily played by Sue Vanner, Bond's log cabin interest in The Spy Who Loved Me is actually a Soviet double agent with orders to seduce 007. When she can no longer keep him otherwise occupied, the girl radios her KGB allies to inform them of Bond's whereabouts.
Most memorable quote
Girl: But, James, I need you.
Bond: So does England!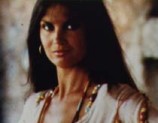 NaomI
Stromberg's beautiful assistant, Naomi (played by the stunning Caroline Munro) is not only an excellent hostess, but also a helicopter pilot with a deadly aim. In The Spy Who Loved Me, after allowing 007 and XXX to leave Stromberg's Atlantis headquarters, she tries to gun them down in their Lotus Esprit.
Most memorable quote
Bond: What a handsome craft. Such lovely lines.