THE MAN WITH THE GOLDEN GUN
VILLAIN
Francisco Scaramanga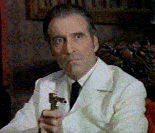 The man with the golden gun, Francisco Scaramanga (given the perfect polish by Ian Fleming's nephew, Christopher Lee) is the best and most highly paid assassin in the world. His million dollar fee, and golden, single shot kills make him highly sought after by the criminal underworld. Not satisfied with his notoriety, he plans to monopolise solar power; but is betrayed by his girlfriend (Maud Adams), who enlists 007 as her champion, believing him to be the only man who can beat Scaramanga.
Most memorable quote
Scaramanga: My golden gun against your Walther PPK, each of us with a 50-50 chance.
Bond: 6 bullets to your one?
Scaramanga: I only need one.
Nick Nack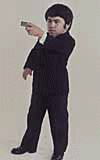 Nick Nack, Scaramanga's diminutive assistant, has a penchant for flair and gets his thrills from trying to use others to eliminate his boss. Controller of The Man with the Golden Gun's fun house, Nick Nack knows that when his master dies, he will become heir to his estate. Played by Fantasy Island's Herve Villechaize, Nick Nack loves peanuts but is tough to spot in a crowd.
Most memorable quote
"You big bully!"