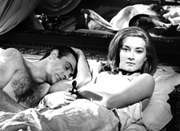 FROM RUSSIA WITH LOVE
GIRLS
TITIANA ROMANOVA

From Russia With Love's tempting seductress who is used to lure Bond into a SPECTRE trap, Tatiana Romanova works as an office clerk in the Russian cypher department. Daniela Bianchi (who placed 2nd in the 1960 Miss Universe pageant) is beautiful and trusting as Bond's love interest, whom he endeavours to take safely back to England with her "dowry" - the Lektor decoder.
Most memorable quote
Bond: You're one of the most beautiful girls I've ever seen.
Tatiana: Thank you, but I think my mouth is too big.
Bond: No, it's just the right size - for me, that is.
SYLVIA TRENCH
The first of Connery's conquests as 007, in Dr. No, he meets Sylvia Trench (played by Eunice Gayson) across the card table. In From Russia With Love she is seen in a canoe with James before he gets a call from HQ which he takes in his Bentley..
Most memorable quote (Dr. No)
Sylvia: I admire your luck, Mr...
Bond: Bond. James Bond.
VIDA & ZORA (GYPSY FIGHTING GIRLS)
Decades before female wrestling became an accepted spectator sport, 007 was already benefiting from an early incarnation of the ritual. While visiting a gypsy camp with Kerim Bey, Bond witnesses a rather brutal way of settling problems caused by a love triangle. Two gypsy women vying for the same man fight a fierce hand to hand battle to see who will claim him as her lover. The wrestling sequence was considered quite shocking for it's time and still has some impact because it was masterfully choreographed and edited.