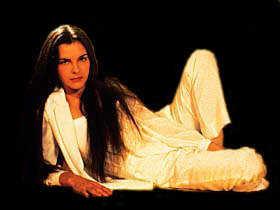 FOR YOU EYES ONLY
GIRLS
.
MELINA HAVELOCK

Melina Havelock, played by Chanel model Carole Bouquet, is a Greek marine biologist whose parents are killed in Kristatos' search for the ATAC. In For Your Eyes Only, while seeking revenge for their deaths, she saves Bond's life and follows him on the trail that leads to the stolen defense system.
Most memorable quote
"Greek women, like Elektra, always avenge their loved ones."
BIBI DAHL

The sweet and supposedly innocent Bibi (played by Lynn-Holly Johnson) is Kristatos' ice skating protoge in For Your Eyes Only. With her tutor, Jacoba Brink, she is training under Kristatos' sponsorship for the winter Olympics. However, she tries to seduce 007, then walks out on her guardian who has lost her trust. She finally finds another sponsor in Columbo, another Greek smuggler.
Most memorable quote
Bond: Yes, well, you put your clothes on, and I'll buy you an ice cream.
COUNTESS LISL

A fake countess with a fake accent and a fake fortune, Countess Lisl (masterfully played by Cassandra Harris) is supposed to be getting information out of Bond. Instead, he turns the table and finds out a good deal about the evil Kristatos before Lisl is ruthlessly killed by one of his hit men.
Most memorable quote
Lisl: Me nightie's slippin'.
Bond: So is your accent, Countess.