DR. NO
GIRLS
HONEY RYDER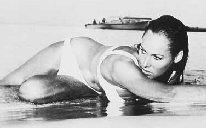 The first ever Bond girl, Honey Ryder emerged from the sea in a skimpy white bikini singing "Underneath the Mango Tree", and set the standard for all Bond girls to follow. In Dr. No, Ursula Andress pouts her way to perfection as she guides Bond through Dr. No's island.
Most memorable quote
Honey: What are you doing here? Looking for shells?
Bond: No, I'm just looking.
.
SYLVIA TRENCH

The first of Connery's conquests as 007, in Dr. No, he meets Sylvia Trench (played by Eunice Gayson) across the card table. Her love of games comes to the fore when she later appears playing golf in his hotel room.
Although only in the film for a few minutes SYLVIA TRENCH has the distinction of being the first ever women to have a sexual experience with 007
Most memorable quote
Sylvia: I admire your luck, Mr...
Bond: Bond. James Bond.