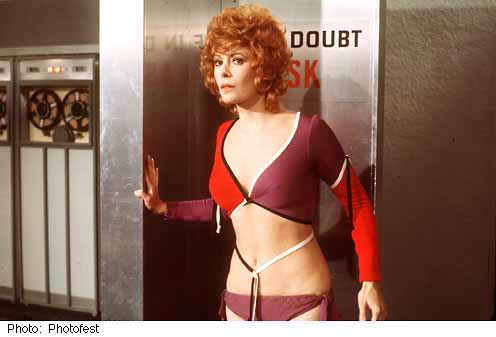 DIAMONDS ARE FOREVER
GIRLS
.
.
.
.
TIFFANY CASE

An American diamond smuggler with skimpy dresses and ever-changing hair colour, Tiffany Case gets caught up in much more than she bargained for when Peter Franks arrives on her doorstep. In Diamonds Are Forever, Tiffany, played by Jill St. John, "helps" Bond follow the path of the smuggled diamonds until the trail leads to Ernst Stavro Blofeld.
Most memorable quotes
Tiffany: I'm co-operating Mr. Leiter, really I am.
Bond: Oh, I can vouch for that.
PLENTY O'TOOLE

Although she doesn't last long in Diamonds Are Forever, Plenty O'Toole, played by Lana Wood, is memorable simply for her introduction. She meets Bond in a Las Vegas casino, but makes a swift exit through his bedroom window.
Most memorable quote
Plenty: Hi, I'm Plenty.
Bond: But of course you are.
Plenty: Plenty O'Toole.
Bond: Named after your father, perhaps?
BAMBI AND THUMPER

An inseperable, deadly duo, Bambi (played by stuntwoman Donna Garratt) and Thumper (played by dancer Trina Parks) are left to guard Willard Whyte in his forced seclusion. In Diamonds Are Forever, the pair almost prove too much for 007 when he happens upon their hidden lair.
Most memorable quotes
Bambi: I'm Bambi.
Thumper: And I'm Thumper.